Only 1 left!
Garmin Descent Mk1 Dive Watch | Gray Sapphire with DLC Titanium Band
$1,499.99
Versatile GPS Dive Computer for Your Diving Adventures
Silver Sapphire with Black Rubber Band
Premium full-featured dive computer with surface GPS in a sleek watch-style design; with bright 1.2" color display and TOPO mapping
Built-in sensors include 3-axis compass, gyroscope and barometric altimeter as well as GPS and GLONASS capability that lets you mark your dive entry and exit points¹ for surface navigation
Supports single-gas, multi-gas, gauge and apnea diving, including nitrox and trimix; plan your dives directly on the device
Dive log lets you store and review data from up to 200 dives — and share online via Garmin Connect™ and its included mobile app
Features Elevate™ wrist heart rate technology² with multisport activity profiles, performance metrics and smart notifications³
Battery life: up to 19 days in watch mode, 10 days in smartwatch mode, 40 hours in dive mode and 20 hours in GPS mode4
Whether you dive with or without tanks, in saltwater or fresh water, breathing nitrox, trimix or holding your breath — Descent Mk1 is the intuitive, do-it-all dive computer you've been waiting for. It's the first watch-sized dive computer to offer surface GPS navigation with full-color onscreen mapping and location reference — so you can easily mark your dive entry and exit points¹.
Breathe Easier, Dive Better
Providing easy-to-access features for a range of diving activities — including the ability to plan dives on the device for recreational, technical and free diving — Descent Mk1 provides all the key, real-time data you need for a confident dive. The computer is automatically activated when you hit the water, showing your current depth, dive time, water temperature, ascent/descent rate, no-deco time, decompression stop information, battery life and more on the unit's crisp 1.2" color display.
You can set the audible tone and vibration alarms to provide reminders at critical points in your dive. And up to 6 different gas mixes are supported, including nitrox and trimix (up to 100% oxygen). Configurable conservatism settings let you adjust your personal safety limits.
Multiple Navigation Sensors
In addition to its high-sensitivity GPS and GLONASS satellite tracking for map-based surface navigation, Descent Mk1 also provides a full array of ABC (altimeter, barometer and compass) sensor capabilities for topside navigation. And the easy-to-read compass display is available for underwater use as well. The built-in altimeter provides elevation data, while the tilt-compensated 3-axis electronic compass keeps your bearing — whether you're moving or not. For quick access to the compass display, a handy "tap to compass" feature lets you simply double-tap the screen instead of pushing the function buttons.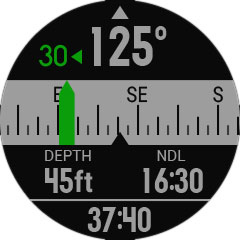 Wrist-based Heart Rate
The Descent Mk1 dive computer uses Garmin Elevate wrist-based heart rate technology² to optically scan your pulse (when worn in contact with your skin, not over a wetsuit or dry suit). The dive computer tracks your exertion levels and uploads your heart rate data automatically to your Garmin Connect online account for post-dive review and analysis.
You might also like